On October 22, 2015, Fraunhofer President Prof. Reimund Neugebauer headed a 25-person team to IWHR to communicate on China-Germany water science and technology cooperation, and met with IWHR President Dr. Kuang Shangfu. Xing Yuanyue, consul from the Bureau of Hydropower, China's Ministry of Water Resources, and IWHR Vice President Dr. Jia Jinsheng also attended the meeting.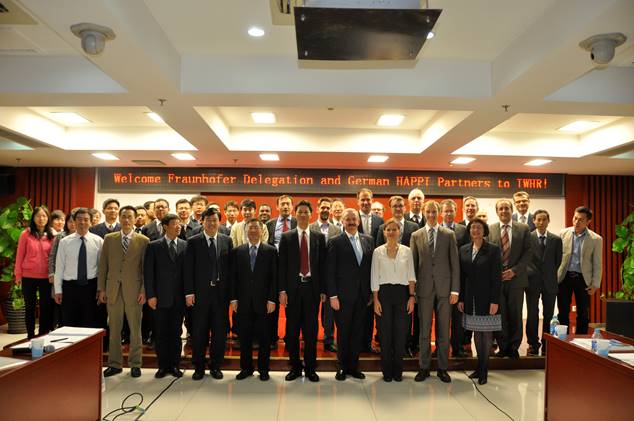 Dr. Kuang welcomed the Fraunhofer guests and other friends from the HAPPI projects, and thanked MWR for its guidance and support to IWHR. He briefed the attendants on the institute's major businesses and research disciplines, and the new technical and research progress to support national campaigns of the most stingent water resources management and the building of water-saving society as well as ecological civilization. Dr. Kuang said Fraunhofer is famous not only in Europe but also around the globe for its large scale, extensive scope, high level and strong businesses, and is particularly competitive in water-related scientific projects for its originality and sustainability. He hoped the success of the HAPPI project could lay a solid foundation for future innovative cooperation in advancing integrated water resources management as well as sustainable water supply and in promoting technological progress and knowledge sharing in both countries.
Mr. Xing thanked the German side for the friendly cooperation and support for the project, and spoke highly of the results of the research. He said the project had gained achievements with high practical values and was worth promotion. He hoped both sides could continue working together, make use of each other's technical advantages and help each other to promote the sustainable development of small hydro in both countries and in the world.
Prof. Neugebauer thanked IWHR for its hospitality. He gave a brief introduction of the history, development objectives, businesses and achievements of Fraunhofer, and emphasized on the leading water-related projects, such as utilizing wastewater, water supply in rural area, desalination using solar energy, and small hydro for substituting firewood. He said both China and Germany are faced with challenges of climate change and fierce competition among water users, but also have cutting-edge water sciences and technologies in both countries. He believed there is huge room for cooperation, and looked forward to further cooperation with IWHR.
Representatives from the Department of Sciences and Technologies as well as the Department of Education and Research of the German Embassy in China also shared their idea on technical cooperation of water-related fields.
After the meeting, a communication meeting was also held for the HAPPI project to share viewpoints, project progress and latest achievements.