Prof. Howard Bamsey, the new Chair of Global Water Partnership (GWP), paid a greeting visit to IWHR on March 29, 2019. He was warmly received by IWHR President Dr. Kuang Shangfu, Vice President Dr. Wang Xiaogang, and directors of relevant divisions and departments as well as the secretariat of GWP-China.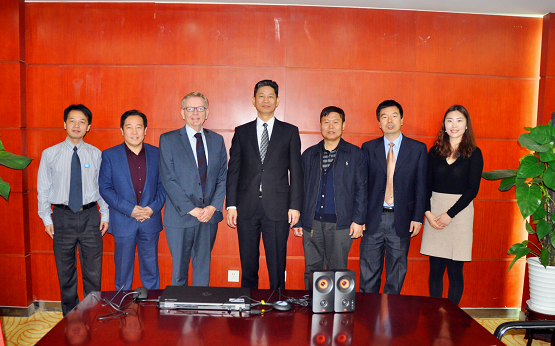 Dr. Kuang welcomed Prof. Bamsey's visit to IWHR freshly after he was elected as the new Chair of GWP in January, 2019. He gave a brief review of the close ties between GWP and IWHR, which hosts the secretariat of GWP-China, and highlighted such milestones as multiple visits to IWHR from successive GWP Chairs and a Secretary General, and a wide array of co-organized events like the Round-Table Meeting of Leaders of Water-Related International Organizations, and the Belt and Road World Youth Forum, etc. Dr. Kuang also introduced the themes of World Water Day (March 22) and China Water Week (March 22-28), and the publicity activities IWHR staged in that celebration. As integrated water resources management (IWRM) is vital to sustainable socio-economic development, IWHR looks forward to strengthening cooperation with GWP in a common pursuit of addressing global water challenges.
Prof. Bamsey appreciated the warm reception by IWHR. He stated that as complex global water issues call for deeper integration of science, technology and policy-making, China sets an example. Prof. Bamsey applauded IWHR for not only its top-notch research teams, but also its global vision and concepts in terms of supporting better policy-making with water sci-tech, promoting IWRM, enhancing water security and eventually promoting sustainable socio-economic development. Prof. Bamsey echoed Dr. Kuang on closer bilateral ties in the future.
Prof. Bamsey was also invited to the Global Vision Forum, IWHR's series lecture, where he gave an insightful presentation titled "Climate change adaptation-policy challenges and opportunities." he touched upon the evolving public and government perceptions of adaptation, and the intricate factors ensuring the successful delivery of an adaptation policy-water, human health and agriculture. During the Q&A session, participants brainstormed on inter-departmental policy coordination, the operability of adaptation from concept to practice, etc.