IWHR is responsible for the seepage control and water-stop engineering of the Xingjiang grand bridge, a section of the Jiujiang-Jingdezhen-Quzhou Railway that has a total length of 2018m. The foundation of major pier caps are all submerged in water which rises to a high level in summer, making the bridge a key project for the entire railway.
According to the construction plan, the grouting of the caps and part of the body of the three main piers need to be completed three months prior to the flood season, which requires the seepage control and water-stop engineering of the pier cofferdam to be safe and reliable and do not hold back the construction of rotary-dig drill pile. For seepage control, new type of cement paste combined with the treatment of stable slurry and Portland cement slurry grouting has been used. This seepage control plan is more adaptable to the local geological conditions and could satisfy the demand of simultaneous construction of cofferdam water-stop and pile foundation.
Regarding the problem of serious hole collapse and difficulty of drilling, the on-site technicians reinforced the soil between piles, saving about 20 days for the construction of pile foundations.
Compared to the plan of building cut-off wall or steel pile cofferdam, the engineering plan designed by IWHR reduced the working period by over 40%. The effect of seepage control has been fully recognized and highly praised by the design and construction units.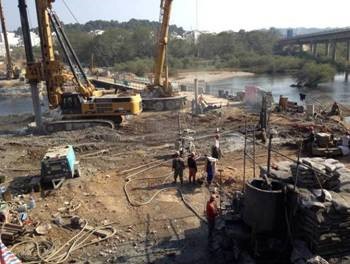 On-site grouting construction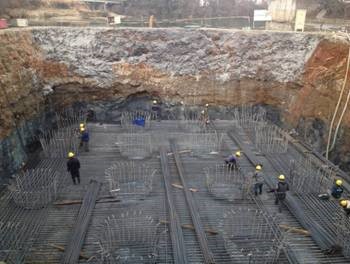 Excavation of pile caps