March 22 marks the World Water Day every year since 1993 with this year's theme focusing on "Valuing Water." On this special day and during the following week which is the commemorated in China as the Chinese Water Week, IWHR organized multiple online and offline events to reach out to the public for a better understanding of the value of water and call for more concrete actions to protect the resource in a better way.
Expert voices on the value of water
To commemorate the 2021 World Water Day, IWHR made a special video on Valuing Water. Watch IWHR's water experts share their view on why and how precious water is to nature and our society.
Launching of Water Education English series
On March 22, the Water Education English series, a popular water science book series for youth jointly sponsored by IWHR and UNESCO, was officially launched. Containing jingles, rhymes, word games, experiments, field excursions, mock hearing, etc., the book series is designed to help raise awareness of school children, especially those in developing countries, in protecting and saving water, so as to fuel the achievement of SDG 6 (water and sanitation) and SDG 4 (quality education).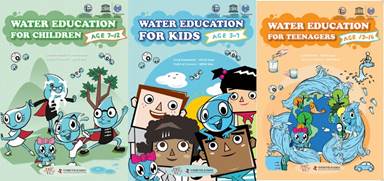 The Water Education English series to be available on market soon
Click here to learn more about the Water Education English series.
IAHR World Water Day special webinar on global water security
The International Association for Hydro-Environment Engineering and Research (IAHR) Secretariat's Beijing Office, affiliated to IWHR, organized a special webinar on March 22 to discuss global water security and its link to nature.
Click here for more information and full playback.
ICFM World Water Day special webinar on flood management
The International Conference on Flood Management (ICFM) Secretariat hosted by IWHR organized a webinar shedding light on "Flooding and the Value of Water" on March 22. Responding to the theme of 2021 World Water Day, the webinar drew attention to challenges brought by new water management methods under the current water crisis.
Click here for more about the webinar.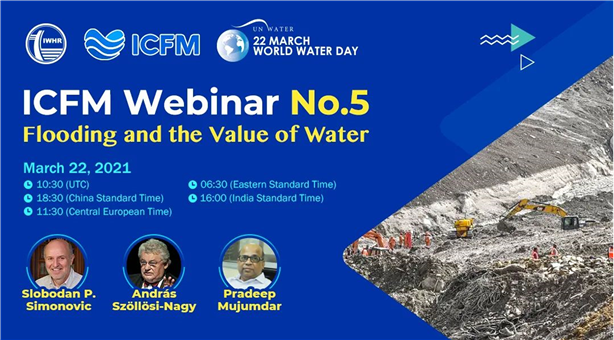 Varied value of water
In the following week after the 2021 World Water Day, IWHR experts shared their views on valuing water at IWHR WeChat account and website, including the economic and ecological value of water, the cultural significance of water engineering projects, and the role water plays in facilitating today's global partnership, to provide our readers with a comprehensive view of the value of water from varied perspectives.