China Water Resources Strategic Studies, a non-profit academic society hosted by IWHR for promoting integrated water resources management and providing technical support for decision-making in water security, was officially founded and followed by the Forum on National Water Security Strategic Studies on March 22, 2016.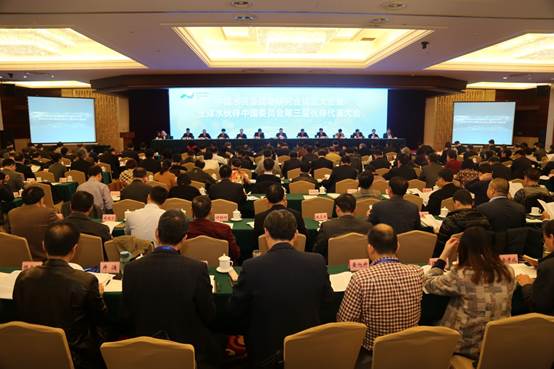 The society was joint inaugurated by Chen Lei, Minister of Water Resources of China, Vice Minister Jiao Yong, former Vice Minister Cai Qihua who was elected Chair of the society, and Wang Hao, standing vice chair of the society and also an academician of Chinese Academy of Engineering from IWHR. Prof. Wang Hao is also the society's chair of academic committee, while Jiang Yunzhong, chief engineer of IWHR's Department of Water Resources, is the secretary general.
Chen Lei gave a speech during the launching ceremony chaired by IWHR President Kuang Shangfu on the current water resources situation in China and the missions for the newly-born society: to focus on national strategies, to establish platform for communication, to disseminate advanced concepts, to expand international cooperation, and to enhance capacity building.
Angela Klauschen, senior network officer of GWP, applauded in her speech the achievements China has made in integrated water resources management (IWRM), and believed the launching of China Water Resources Strategic Studies will play an important role in promoting both IWRM and sustainable development.
In the Forum on National Water Security Strategic Studies held that afternoon, Cai Qihua made a keynote speech on "ecological sponge river basin," an important concept that was proposed for the first time. The forum also invited 6 experts to give technical reports on water security.