In 2017, a Memorandum of Understanding (MOU) on Water Resources Cooperation was signed between the Government of Malaysia and the Government of People's Republic of China. This is also the first intergovernmental bilateral cooperation agreement on water resources Malaysia has entered.
Under such a framework of collaboration between the two governments, during September 16 to 20, 2019, IWHR President Dr. KUANG Shangfu led a delegation to visit water-related government agencies, research institutes and university in Malaysia and achieved fruitful results.
Station 1: Universiti Sains Malaysia (USM)
In September 2017, Dr. KUANG Shangfu and the IWHR delegation visited Universiti Sains Malaysia (USM) in Penang and signed a bilateral memorandum of understanding.
Dr. KUANG, in his opening remarks, congratulated on the 50th anniversary of the founding of USM. He was deeply impressed by the advanced philosophy of education, research strength in engineering and deep humanistic care of USM. As the only APEX (a program aiming at first-class university in the world) university designated by the government in Malaysia, USM holds a similar outlook on development with IWHR, whose goal is to join the club of world-class research institutes of water resources and hydropower by 2020, to become one of the best in the club by 2035, and to lead the club by 2050. Dr. KUANG hoped the two sides could give full play to their advantages in scientific research, discipline construction, talent training and international exchanges, deepen collaboration and enhance international influence together, so as to better serve both sides' goal of achieving excellence.
Professor Datuk Asma Ismail, President of USM, introduced the university's philosophy of education, namely "from hi-tech to hi-touch". She stressed the endeavor USM has made to use technologies and innovations to improve lives of the disadvantaged people in Malaysia and increase their sense of gain and happiness. She pointed out the diversity of regional culture in Asia, and indicated that although China and Malaysia face similar challenges related to water resources and climate change, both have to develop solutions that suit their respective national conditions. She hoped that UMS and IWHR develop a cooperative partnership and both sides learn from each other and work together to boost knowledge sharing and exchange, thus to better serve the development of domestic water conservancy and improve people's lives.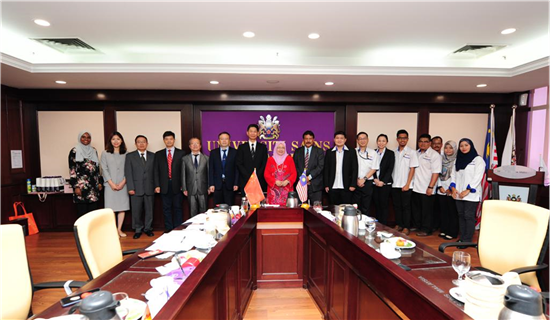 The two sides further discussed cooperation on projects, people-to-people exchanges and co-training of graduate students, as well as enhancing international influence.
Before the meeting, Dr. KUANG and the IWHR delegation visited the River Engineering and Urban Water Research Center (REDAC), upon invitation of Professor Azazi Zakaria, director of REDAC. With advanced ideas and technologies in urban rainwater management, ecological restoration of rivers, source treatment of rainwater, etc., REDAC implemented the first biological-ecological drainage demonstration project in Malaysia using the whole green campus of engineering as an experimental base. Dr. KUANG and IWHR experts viewed the demonstration project in detail, and had an in-depth conversation with REDAC on underground drainage channels, runoff control abilities, and other issues.
Station 2: National Hydraulic Research Institute of Malaysia (NAHRIM)
On September 18, Dr. KUANG led the IWHR delegation to visit the National Hydraulic Research Institute of Malaysia (NAHRIM) in Kuala Lumpur. The two sides held a discussion to thoroughly implement the MOU between the two governments and identify fields of cooperation.
Dr. KUANG pointed out that both IWHR and NAHRIM are government agencies specializing in water research. As one of the major institute for implementation of the MOU, IWHR has great responsibilities in this glorious mission. Dr. KUANG expressed his expectation to deepen discussion and collaboration with NAHRIM and boost water-related technological cooperation between the two countries.
Dato Md Nasir Md. Noh, President of NAHRIM, warmly welcomed the IWHR delegation, and briefly introduced NAHRIM's latest achievements in construction of sponge cities, reuse of water resources, protection of watershed ecology, etc.
The two sides reached consensus to focus on demonstration project of sponge cities, treatment of river sediment, efficiency improvement in rice field irrigation, as well as development of emerging technologies for water resources management for joint research. Also there will be joint exploration on development of rainwater collection and utilization products, development of rainwater management systems for cities, etc.
After the meeting, the IWHR delegation visited the hydraulic laboratory and sediment laboratory of NAHRIM and had a discussion on tidal power generation, reservoir sedimentation treatment, etc.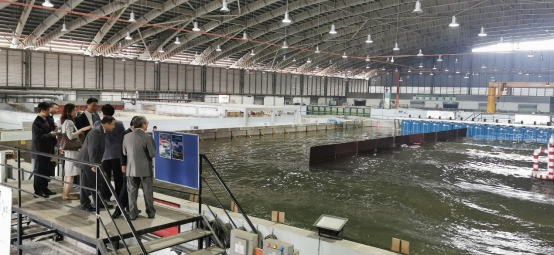 Station 3: Ministry of Water, Land and Natural Resources of Malaysia
On September 19, Dr. KUANG and the IWHR delegation paid an official visit to the Ministry of Water, Land and Natural Resources of Malaysia (KATS) for implementation of the inter-governmental MOU.
Ms. Azizah Ariffin, Deputy Secretary-General of KATS, said that KATS attaches great importance to the MOU, and will fully support NAHRIM and other subordinate research institutes to carry out in-depth, pragmatic technical cooperation with IWHR and other relevant institutes.
Dr. KUANG expressed his sincere gratitude to Ms. Ariffin for arranging the meeting. He introduced major outcomes of previous days - the technical consultation and the successfully signed cooperation agreement with USM, the fruitful technical exchange with NAHRIM as well as the consensus reached on four primary areas and two exploratory ones. He said that IWHR is looking forward to the cooperation with Malaysian research institutes, and will go all out to boost bilateral cooperation on water technologies between the two sides.
The two sides also exchanged views on establishing a technical-level working group, and sending Malaysian technical teams to visit IWHR in the future.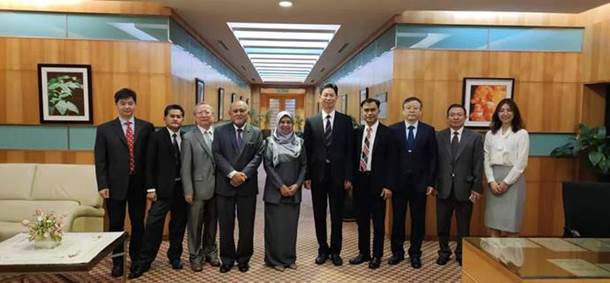 Station 4: Malaysian National Committee on Irrigation and Drainage (MANCID)
On September 19, Dr. KUANG and the IWHR delegation visited the Malaysian National Committee on Irrigation and Drainage (MANCID) in Putrajaya and held a discussion on enhancing technical exchange and cooperation in farmland irrigation technologies between the two countries.
Dr. KUANG thanked MANCID for its long-lasting support for Chinese National Committee on Irrigation and Drainage (CNCID), especially the support for China to bid for the right to host the 4th World Irrigation Forum in 2022. According to Dr. KUANG, as the host institute of CNCID Secretariat, IWHR always actively supports ICID and CNCID events, and will do its utmost to make the 4th World Irrigation Forum a successful one. He also invited Mr. Dato Ahmad Bin Darus, President of MANCID, as well as other fellows in Malaysian water institutes to attend the Forum.
President Darus congratulated China on successfully bidding for the right to host the 4th World Irrigation Forum. He expected MANCID, CNCID and IWHR to support each other's work as always in the future. He also proposed his idea for both sides to further deepen collaboration.