On September 26, 2017, Mr. Andreas Goetz, Senior Consultant and former Deputy Director of Swiss Federal Office for the Environment, visited IWHR and lectured at the institute's Global Vision Forum, a platform for inviting world-class scholars and experts to give academic reports, delivering a speech on Switzerland's risk management philosophy and practice. IWHR President Kuang Shangfu and Vice President Peng Jing met with the Swiss guest. People who attended the meeting also included the relevant person in charge of the Division of International Cooperation and the Research Center on Flood and Drought Disaster Reduction.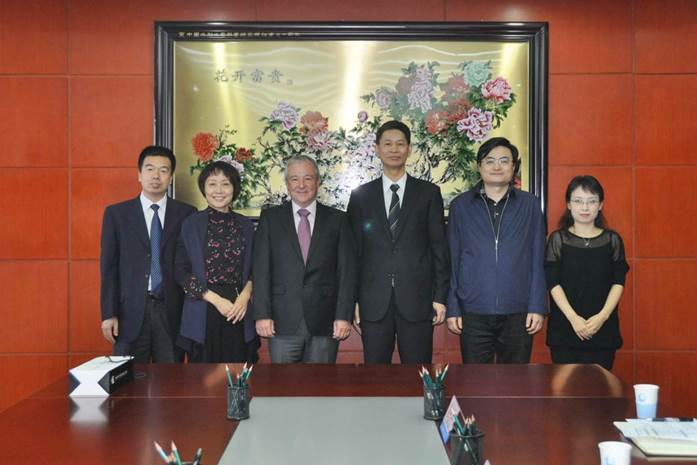 Dr. Kuang expressed warm welcome and heartfelt thanks for Mr. Andreas Goetz's visiting IWHR and lecturing at Global Vision Forum. He reviewed the positive efforts made by Mr. Andreas Goetz in promoting bilateral visits of senior water conservancy officials, advancing bilateral project cooperation and publicizing China's achievements in water conservancy construction, and extended thanks to Mr. Andreas Goetz for his outstanding contribution to the friendship between the two countries as the founder of China-Switzerland water conservancy cooperation. The president also introduced IWHR's key work and main results achieved in the field of flood control and disaster reduction in the recent years, hoping that Mr. Andreas Goetz will continue to strengthen exchanges and cooperation with IWHR and share the advanced experience and concept of risk management and comprehensive management of water resources in Switzerland.
Mr. Andreas Goetz thanked IWHR for the warn invitation and reception. He briefed the key projects on flood risk management and prevention being carried out by the Swiss water department and talked about the ongoing research project on integrated water resources management under the climate change between China and Switzerland. He hoped that IWHR would be able to participate actively and strengthen cooperation with relevant Swiss authorities to jointly press ahead mountain flood disaster research and the promotion and application of integrated risk management concept.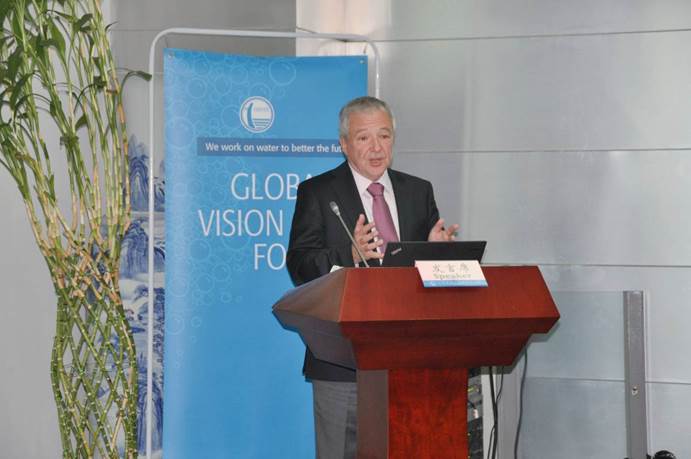 After the meeting, Mr. Andreas Goetz delivered a lecture titled "Know the risk and be prepared" at IWHR's Global Vision Forum. Dr. PENG Jing presided over the lecture. The report presents the challenges of Switzerland in the field of disaster prevention and mitigation, puts forward new disaster prevention needs and objectives under the background of climate change, population growth and social development, and reviews the historical experience and lessons of Switzerland in related fields, and proposed the concept and practice of disaster risk management in the new period. Mr. Andreas Goetz also summed up the cooperation and exchange between China and Sweden in the relevant fields such as water resources and disaster reduction, and pointed out the future development direction and suggestion of cooperation between the two sides.
The report received a positive response from field experts and scholars, and the participants discussed issues such as disaster risk assessment, mountain flood disaster warning and disaster insurance mechanism.