Background
Sluices as low-water-head water retaining structures are widely used in water conservancy projects. Such structures commonly seen at home and abroad generally adopt self-control hydraulic flap gates, rubber dams, steel dams, steel gates and hydraulic elevator dams. They have more or less technical defects in key indicators, including discharge security, landscape transformation, applicability to rivers with many silts and floating objects, investment, and sensitivity to foundation subsidence. This study develops a new type of low-water-head dams that decrease the defects of traditional movable dams while retaining the basic advantages as many as possible, so that the dams can perform well in safety, applicability, durability and maintenance and meet various needs, including water storage for urban landscape, irrigation, flood control, power generation and shipping.
Contents
· Optimizing product structure by connecting the hydraulic cylinder, dam and bottom hinge joints into an integrated elevator, and establishing the theory and method of optimal structural design;
· Selecting and improving the key components of the hydraulic system, including the design and optimization of hydraulic system principles and the selection of key hydraulic equipment;
· Innovating and integrating the features of electronic control system for safer and smarter operation, including powerless dam drop warning, intelligent powerless dam drop, intelligent deicing and pressurizing, and APP-based mobile real-time monitoring.
Achievements
· A novel hydraulic elevator dam has been proposed by introducing the three-hinge hydraulic luffing mechanism into the traditional sluices;
· A technology of deicing-free water storage during the ice period has been developed, addressing the operational inability of existing sluices and dams in winter;
· The hydraulic system principles and electrical control functions have been optimized based on innovative application and management of hinge dam, achieving such special features as powerless dam drop;
· A series of hydraulic elevator dam products have been integrated and designed, adapted to different application scenarios and landscape needs;
· A technology of emergency powerless drop of dams across the board has been developed, realizing fast lift and drop;
· The water-carrying spoiler has been able to produce such technical effects as shaping dam, creating water landscape, damping vibration, protecting cylinder and preventing ice cover; and
· Land, time and labor requirements for construction, operation and management have been reduced.
Application
Five research and production bases have been established in Beijing, Tianjin, Dunhua of Jilin Province, Jining of Shandong Province, and Wuhan of Hubei Province. They are capable of annual production of 10,000 square meters and the related control equipment manufacturing, engineering design and construction, and technical services. The technology developed by the study has been successfully applied in more than 30 dams of 2,900 linear meters in 15 Chinese municipalities and provinces, such as Beijing, Jilin, Shandong, Guizhou and Heilongjiang, and in foreign countries such as Myanmar and Thailand. It has broad prospects for promotion and application.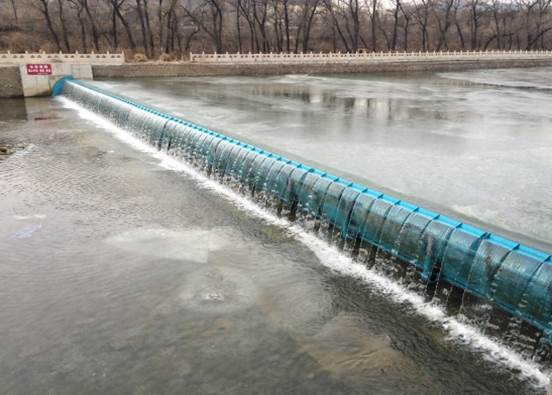 Water flowing display (Antu, Jinlin)

Deicing-free water storage during the ice period (Dunhua, Jinlin)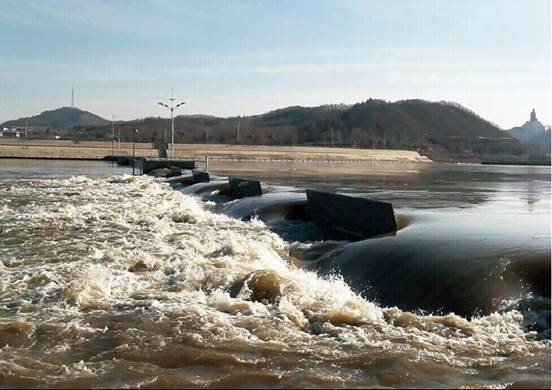 Single-fan operation to remove floating objects and sand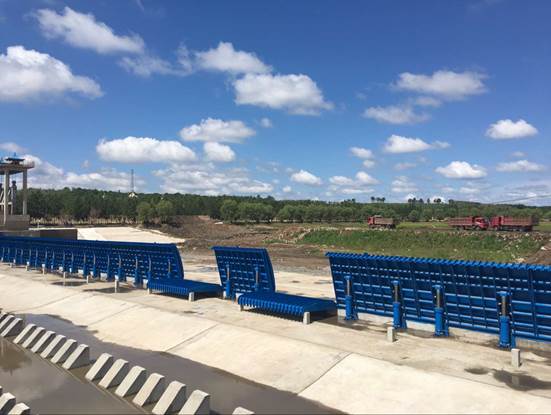 Hydraulic elevator dam in Hulan River (Lanxi, Heilongjiang)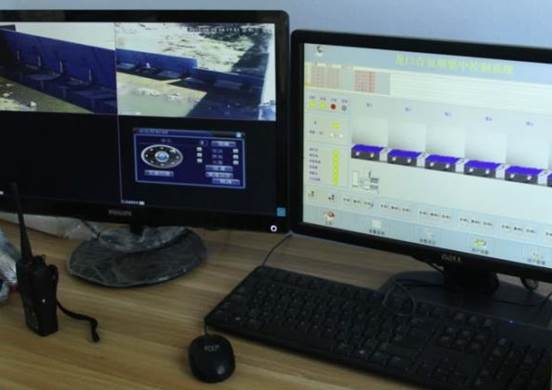 Remote monitoring system (Longkou, Shandong)