Innovation, the driving force of China's development and national rejuvenation and the soul of scientific research, has always been part of IWHR spirit, and also the unremitting pursuit of the new generation of IWHR staff, who bring up fresh thoughts and pursue excellence with persistence. Using their knowledge and skills, they are making China, and the world as well, a better place.
  Young people are the most creative group in our society, for whom we launch this column to share the innovation stories of the young IWHR scientists and engineers.
  In this article, let us take a closer look at an IWHR team who left their footprint on the freezing Heilong River that forms the boarder between Northeastern China and the Russian Far East.
Photo: Wang Tao
  This is the view of Heilong River near Mohe (53° 29' N), the northernmost Chinese city known as the Beiji Cun (literally, northernmost village). Winter is extremely cold here – the ice sheets in the river can be thicker than two meters. In the end of April when the sheets melt, ice surface cracks and huge ice blocks travel down the river. In some circumstances, the ice blocks the river channel to form ice dams and result in severe floods. Before 2012, there would be a flood caused by ice jam in almost every three years in this river, threating people's lives and properties.
  The main way to prevent ice floods is to blast the ice sheet at the highly risky river sections in advance, and that procedure needs theoretical support from scientific research. Different from China's sandy Yellow River where scientists have gained rich experience of ice flood prevention, research about this cold-region-based Black Dragon River (the literal meaning of the Heilong River in Chinese) lags behind with very insufficient data.
  Then, a research team from China Institute of Water Resources and Hydropower Research (IWHR) undertook this arduous task through the project of "Ice Flood Prediction and Disaster Reduction in the Heilong River Basin" sponsored by the Ministry of Water Resources of China.
  A young team though, their work has won worldwide recognition. It has been reported by CCTV, CNN, Scientific Chinese magazine; and their papers have been published on Journal of Hydro-environment Research, Journal of Cold Region Engineering, Journal of Hydrodynamics, and other renowned academic journals. Professor Guo Xinlei, leader of the team who was born in the 1980s, has already been awarded "Outstanding Young Talent" by Organization Department of the CPC Central Committee.
  From Zero to International
  Starting from scratch, the team's primary task is to conduct research about river ice in high altitude regions.
  Two important parameters to measure in such research are water depth and ice thickness. However, the current single-frequency ground penetrating radar (GPR) cannot measure water depth and ice thickness at the same time accurately. To solve that problem, the IWHR team developed the double-frequency GPR, with which water depth and ice thickness data are collected simultaneously for the first time, greatly improving the efficiency and accuracy of field prototype observation. Paper on this achievement was published on Cold Regions Science and Technology, an authoritative journal of ice engineering research in October 2018, and was promoted by Science Trends, a famous popular science website in the United States.
Double-Frequency Ground Penetrating Radar Developed by IWHR Scientists
  Applying observation data and previous record of local weather and water level to their work, the team then built an ice flood prediction and forecast system based on neural network, fuzzy mathematics and artificial intelligence.
  Ice blasting technique is another key to the success of the project. The team established the functional formula between radius of blasting hole and thickness of ice sheet, depth of water under ice and amount of explosives to be used. That formula helps predict the effect of blasting with more accuracy and efficiency, while saving more than 50% of explosives.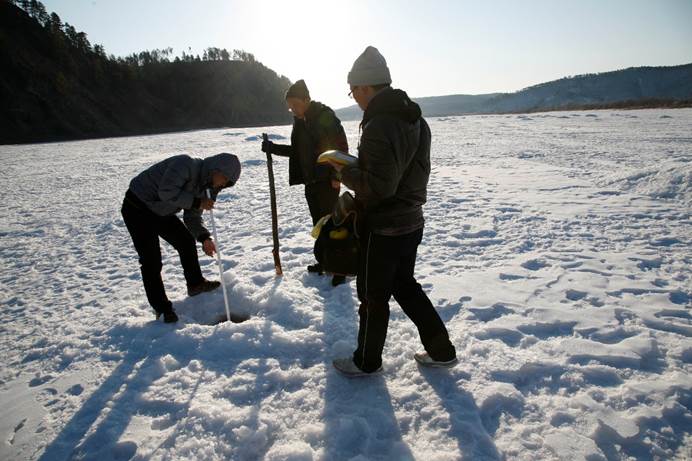 Photo: Wang Tao
  "Since IWHR took charge of the blasting with our innovative techniques, the risks of ice jams in the upper Heilong River have been largely reduced, and there hasn't been a single ice flood caused by ice dams in recent five years," said Professor Guo confidently. Their remarkable achievement not only was reported by CNN specially, but also appears in CCTV news every year in spring.
  With concrete support from local authorities in Heilongjiang Province, the team has measured river sections of over 200 kilometers in total, conducted continuous observation and kept record of 14 ice-water parameters, developed five sets of new-type ice-water measuring equipment, and obtained first-hand data of over 100 gigabytes. The hydraulic theories about river ice and prevention system of ice-related disasters developed by the team give preliminary answers to key questions in ice flood prevention, such as "How big is the risk of ice dams?" "What kind of river sections are prone to ice dams?" "When to conduct blasting for prevention of ice flood?" and "What blasting plan to apply and how much amount of explosives should be used?" The team's work has reduced ice flood damages along the Heilong River, successfully protecting lives and properties in local area, and relevant scientific and technological achievements have been fully affirmed by academia and societies both in China and abroad.
  The Hard Work behind Success
  Behind the success of the project is the hard work of the team years and years. Daytime temperature is always below -20 °C (-4 °F) on the frozen Heilong River in winter, adding to the difficulty of in-situ measurement. The measuring instrument had to be inserted into the hole dug in ice, and when pulled up after a while the probe would always be frozen into ice tube. Therefore, they needed to always carry a thermos and melt the probe with hot water before each round of measurement.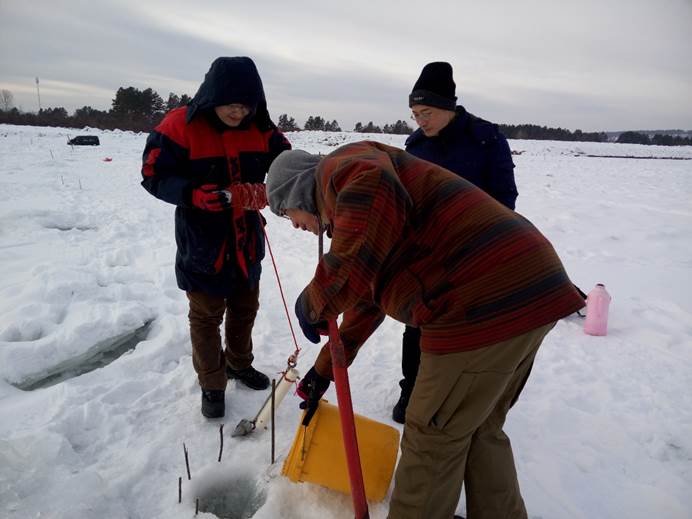 Photo: Wang Tao
  According to Professor Wang Tao, one of the team members, they usually stayed on the frozen river for a whole day. The only break they could take was a short lunch in the car with some scones, eggs and pickles. When the sun set, local workers and fishermen already returned home, while they still stayed on the river and continued their work in the afterglow.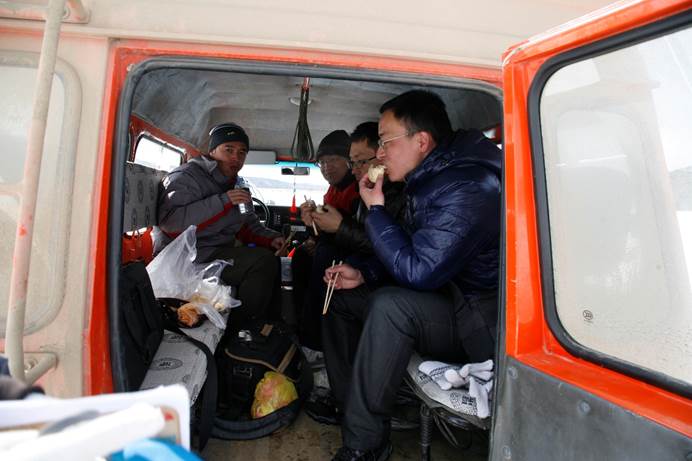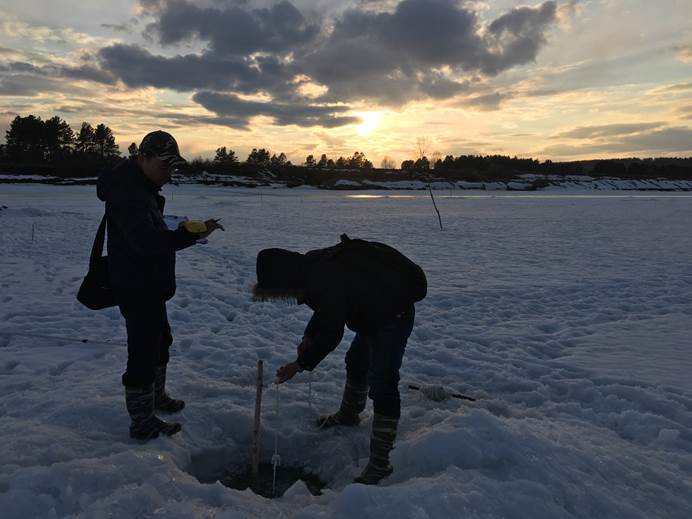 Photo: Wang Tao
  Ice blasting looks spectacular in photos and videos, but is quite dangerous for people on the site. Walking on the river ice, it is easy to fall into the water with just a little carelessness. Some parts of the ice looks thick but are very fragile actually; they sometimes even need to crawl on the ice to move forward.
  Photo: Wang Tao
  The challenges also came from long-term exposure to the ultraviolet light reflected by ice and snow in high altitude region. Even well-equipped, their faces could be sunburned and peeled after just a few days. That was dubbed by themselves "beautiful as a flower."
Photo: The Research Team
  No matter how difficult things are, however, the young scientists are never deprived of optimism and vitality. It is great enjoyment to take funny photos and videos during the break, or look at the beautiful starry sky rarely seen in crowded cities. For IWHR scientists, life can always be of so much fun with love and passion for their work.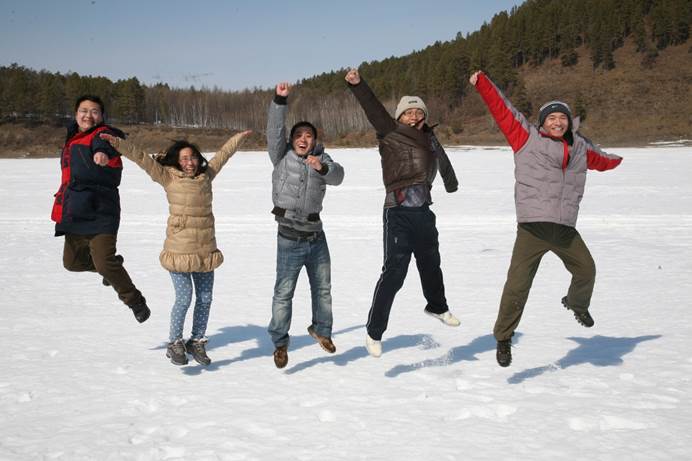 Photo: The Research Team
  Starting Again with Original Aspiration
  The "Ice Flood Prediction and Disaster Reduction in the Heilong River Basin" project lasted for three years. It was successfully completed in 2018, but the team would still go to Mohe, Beihong, Xing'an and other sections of the Heilong River every year in spring, in order to supervise local ice blasting and ensure full application of the project results. Far more than just a research project, it has already become part of their vocation for Professor Guo and other team members. For them, the greatest happiness is to do real work for the motherland, the society, and those people in need.
  The team has already fulfilled their task on the Heilong River. However, these young scientists have a much further journey to explore. In the next step, the team will focus on simulation experiments combining water, sand and ice for the project of ice flood prevention in the Yellow River Basin they newly started, as well as apply artificial intelligence to ice flood prediction and forecast. Working hard to press ahead while remaining true to their original aspiration, the young team is aiming at more successes in the future.