The ECO Forum Global Guiyang 2021 (EFG 2021), an annual high-level international forum focusing on ecological enhancement, was held in Guiyang City, the capital of China's southwestern Guizhou Province on August 12, 2021. Themed on "Green and Low-carbon Development——Fostering a Community of Life for Man and Nature", this year's forum combined a series of offline and online activities. More than 500 participants including governmental officials, experts and scholars, and business leaders attended the meeting, discussing on ecological civilization to explore innovative approaches to green development.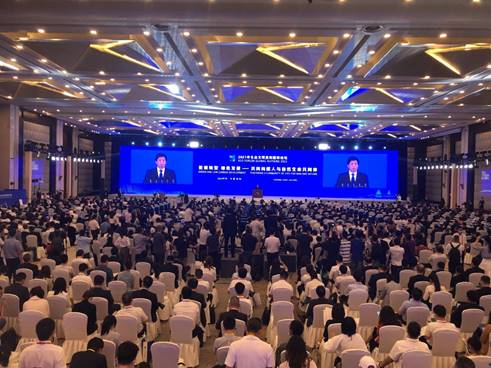 The opening ceremony
The thematic session of "Protect the Ecology of Rivers and Lakes, Practice Ecological Civilization" co-hosted by the government of Guizhou Province and the Ministry of Water Resources of China was held later that day. WEI Shanzhong, Vice Minister of Water Resources delivered a keynote speech. IWHR's Vice President PENG Jing briefed the audience upon the China River Happiness Report 2020, a newly published IWHR research output.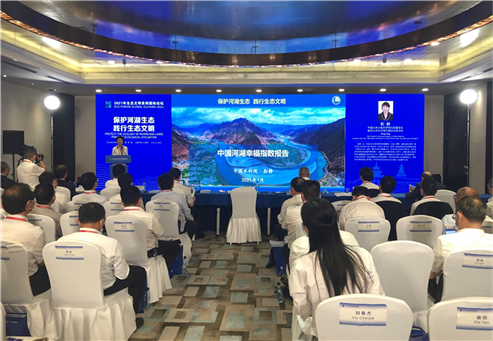 The thematic forum
PENG Jing said that since the 18th National Congress of the Communist Party of China, Chinese government has been attaching great importance to the management and protection of rivers and lakes, and put forward the call for "building Rivers of Happiness for the benefit of people", which offers a guideline for the development of water governance and management of rivers and lakes in this new era. To answer the call of the Chinese government, IWHR set up the River Happiness Research Team assembling experts from various fields to jointly research on the index system and theoretical methods to evaluate river happiness. The team completed the evaluation of the ten Grade-I water resources regions of China and Taihu basin respectively, with the year 2019 as the base year, providing scientific guidance to build the "River/Lake of Happiness".
Academician WANG Hao from IWHR joined the session in an online manner and presented on "Challenges faced by the ecological protection of rivers and lakes". He introduced the latest ideas and practices in water ecological civilization, and pointed out that it is necessary to make sure that the responsibilities of River Chiefs are implemented down to earth so as to maintain the health of rivers and lakes, and to achieve a win-win result between river protection and its sustainable use.
Invited representatives from Finland, Singapore and France also attended the session online and shared with the audience their global experience on water management.