LIU Weiping, Vice Minister of Water Resources, recently visited Yanqing Experimental Base of IWHR. IWHR President KUANG Shangfu, IWHR Vice President DING Liuqian, and representatives from relavant departments accompanied the visit.
Vice Minister LIU Weiping inspects Yanqing Experimental Base of IWHR
.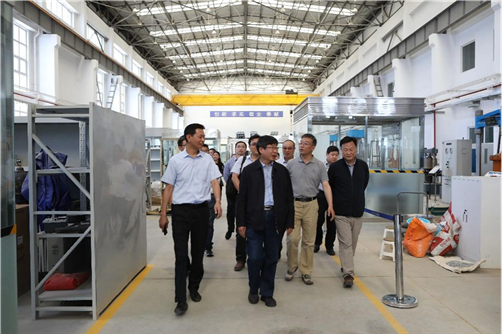 At the Comprehensive Experiment Hall for Engineering Mechanics
At the Comprehensive Experiment Hall for Water Resources and Soil Conservation Engineering Technologies
At the Large Geotechnical Centrifuge Laboratory
At the Flood Control and Disaster Mitigation Laboratory
At the Automatic Control and Simulation Laboratory
During the visit, LIU was delighted to see the improvement of the enabling environment for research in IWHR. He spoke highly of the scientific achievements IWHR has gained and encouraged researchers to develop more innovative achievements with independent intellectual property rights. He stressed that future work should be carried out adhering to the governing philosophy for water resources management featuring "prioritizing water conservation, balancing spatial distribution, taking systematic approaches, and giving full play to the roles of both government and market" proposed by President Xi and implement the requirements made by Minister Li Guoying in real earnest. He called for enhancing scientific research and infrastructure construction to provide a powerful underpinning for high-quality development of water resources management.