Starting from early 2020, IWHR has been cooperating with UNESCO on a water education program for school-age children. The main collaborative outcome is the adaptive translation, publication, and dissemination of the Water Education English series, a three-volume reading materials for children and teenagers.
Set to be applied first in English-speaking Eastern Africa and later in European and Asian countries along the ancient Silk Roads, this set of extracurricular readings manifest the joint will of IWHR and UNESCO to raise public awareness of water, improve water literacy among the younger generations, and contribute to SDG 4 (quality education) and SDG 6 (water and sanitation).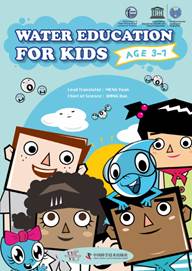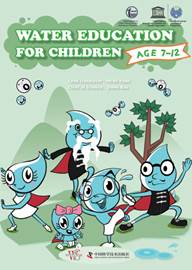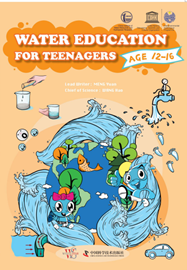 The covers of the Water Education English series
On May 24, the work team behind the Water Education English Series communicated with the teachers and students from Spain, Italy, Turkey, and Croatia in an online water-awareness seminar. Sponsored by Erasmus+, these teachers and students had been cooperating under the "A Treasure Called Water" program. As the seminar was designed as their closing activity, it drew much attention and expectation from the young participants.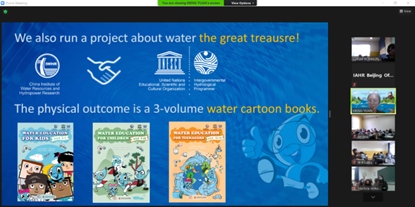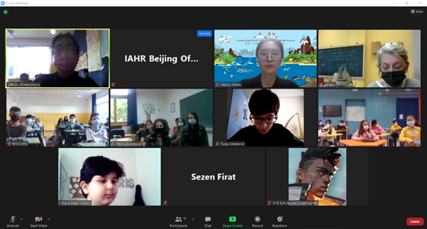 The on-line water-awareness seminar held by IWHR and the "A Treasure called Water" team
The lead translator of the series from IWHR presented a lecture titled "Together for Water". Pivoting on one book chapter about the natural and social water cycles, the lecturer walked the students through key stages of the never-ending natural water cycles and their linkages with our daily life, and progressed to how human activities have interfered with and modified the natural water cycle. The talk ended with promising cases of conserving water and recycling the wastewater both in public and household settings.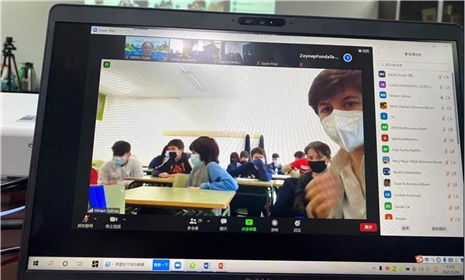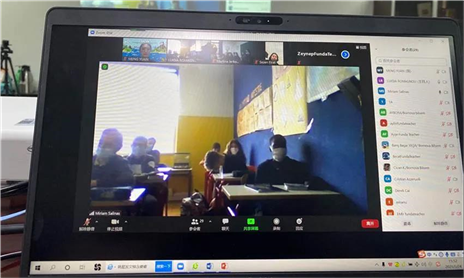 School children and their teachers joining online
The Water Droplet Family (Drake, Daisy, Mr. and Mrs. Droplet, and Grandpa Droplet), the central cartoon figures from the Water Education English series were widely adored by the students. They shared their afterthoughts about the lecture and what they had done under the "A Treasure Called Water" program, and voiced their will to protect, love and save water.
More water-awareness building collaborations between IWHR and EU partners are to expect in the next school year.
Click here to meet the Water Droplet Family.
More information about the Water Education English series can be found here.