To boost the sharing of global experience, latest technologies and research outcomes in flash flood risk management, IWHR and Université C?te d'Azur (UCA) jointly organized an online Seminar on New Solutions for Estimating Flash Flood Discharges on May 7, 2021.
The Seminar is the fourth of the Flash Flood Program (FFP) online events. Three experts from Spain, China and Japan discussed new methods and equipment for monitoring the discharges and velocities of flash floods. About 500 people watched the live stream.
Philippe Gourbesville, Professor of the Université C?te d'Azur (UCA) and Vice President of the Asia Water Council (AWC), delivered an introductory talk. He pointed out that flash floods are often characterized by fast-moving waters and rapidly rising and declining water level, for which the time for response is very limited. Decision makers need real-time information of the changes of water level and flow rate in a flash flood to make or adjust the emergency response plan and reduce the losses as much as possible. However, due to the complex land shapes in mountain areas where flash floods usually occur, traditional hydrological measurement methods are often unable to accurately assess the rapid changes of water level and flow rate in flash floods, which brings difficulties to decision-making in disaster response. This Seminar aims to provide suggestions to solve this problem.
Prof. Manuel Gomez Valentin from Universitat Politècnica de Catalunya presented on Estimating Flash flood discharges: challenges & potential solutions. He focuses on the application of experimental techniques to the measurement of urban flood surface flow in large areas with complex land shapes. He proposed the surface flow image velocimetry (SFIV ) for real-time monitoring of urban flood flow changes.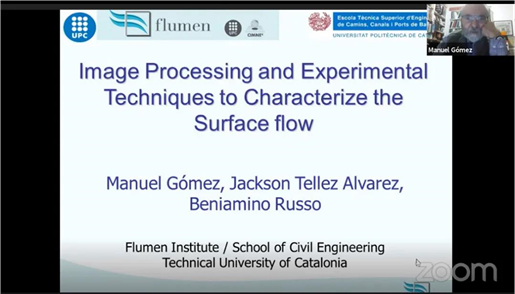 Prof. LIU Deli from Wuhan University introduced Research Progress and Prospects of a New Generation of Flow Measurement Product Based on Image Recognition and AI. He compared the traditional methods for monitoring water level and flow rate with the newly-developed video-based flow measurement methods and summarized the advantages and disadvantages of related technologies. He then introduced the theoretical principle and application outcomes of the WHU AiFlow, an AI-based tool for water level, velocity and discharge measurement developed by Wuhan University.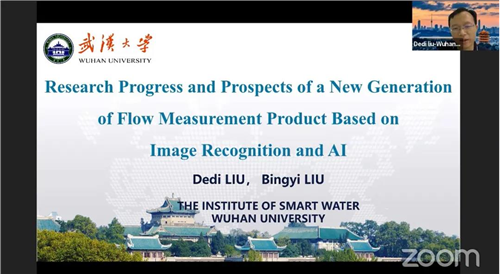 Sameh Kantoush from the Disaster Prevention Research Institute of Kyoto University discussed using video solutions for discharge estimation – application in wadi systems (Wadi refers to valleys and dry rivers in Arabic). His research focuses on the real-time monitoring of flash flood water level and flow in arid areas. He suggested that the remote camera system should be evenly distributed in a wide range of arid areas affected by flash floods to better monitor and forecast different types of flash floods.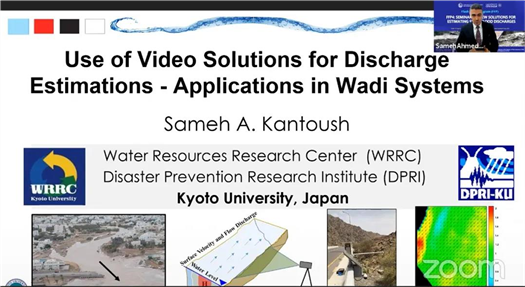 Prof. Philippe Gourbesville summarized the Seminar at the end. He pointed out that some of the recent flash flood emergency schemes do made a reference to the new technologies introduced in the Seminar, such as the flow velocity estimation under different conditions through video. He believed these innovations would be gradually incorporated into the cloud monitoring network for flash flood disasters to provide helpful information to decision makers.
Click here to watch the full recording of the Seminar.