IWHR and the Government of Lishui City, Zhejiang Province in South China signed a strategic cooperation agreement on April 26, 2021. IWHR President Dr. KUANG Shangfu, Vice President Dr. DING Liuqian, Mayor of the Lishui City WU Xiaodong, and RAO Hong, Vice Chairman of the municipal CPPCC and Director of the Development and Reform Commission, attended the signing ceremony. IWHR Vice President Dr. WANG Xiaogang and Vice Major of the city, DU Xinglin signed the agreement on behalf of both parties.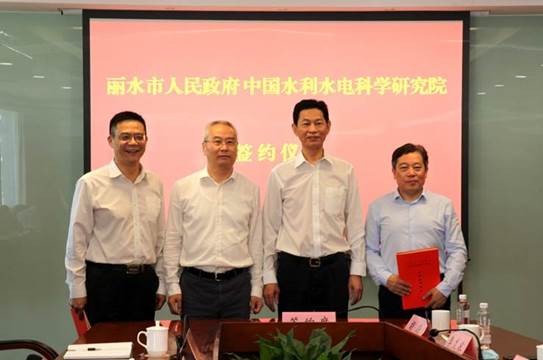 Signing the strategic cooperation agreement
Lishui City is a long-term close partner of IWHR, Dr. Kuang said in his opening remarks. Three years since Chinese President XI Jinping openly acknowledged the development potential of Lishui city when charting the future of Yangtze River Economic Belt, the city has lived up to its reputation as the birthplace and a pioneer of Xi's vision that "Green is Gold". Protecting the ecosystems and pursuing economic growth can go hand in hand, as the Lishui story proves. Dr. Kuang applauded the significance of signing the strategic cooperation agreement at this critical juncture, citing the sound bilateral cooperation in such fields as water ecology and environment, and water culture. IWHR is committed to further contributing its science and technology brains to comprehensive cooperation in water-related issues research, the construction of research bases for Happy Rivers, tapping into water cultures and so on, in a bid to provide a stronger technical support to Lishui's high-quality socio-economic development.
Mayor Wu Xiaodong warmly welcomed the IWHR delegation. He pointed out that IWHR, as a national institute, has provided strong support for Lishui's reform and development of water resources and ecological civilization development. With an expansive grid of quality water, Lishui eyes for "fully activating the water economy" during its 14th-Five-Year-Plan period. The water economy will be a prime example of realizing the values of ecosystem services. The Lishui government hopes that the agreement could pave the road for a stronger synergy in exploring the ecological values of water and water services branding based on sharing and win-win cooperation. Hopefully, Lishui can be the hallmark of "Happiness River" in South China, and further exemplify the vision that "Green is Gold".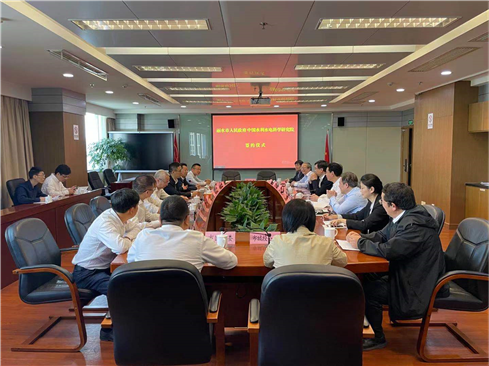 Discussions during the meeting
The IWHR delegation were also invited on a field trip to Tongji Weir and Qingtian water project after the meeting.