On April 8, IWHR and the Asia Water Council (AWC) jointly organized a webinar on "Water and Climate Change", as one of the virtual conference series of the 2nd Asia International Water Week On-Air. Executive Vice President of K-water Mr. Han-goo Lee, IWHR's Vice President and Co-chair of AWC's special committee on Water and Climate Change Prof. WANG Jianhua made opening addresses. Experts from China, Thailand, Indonesia and the Green Climate Fund delivered technical reports and explored issues on climate-induced stresses and risks on water and on how to respond and adapt to climate changes from the perspective of water sector.
Mr. Han-goo Lee said in his speech that, in the context of climate change, water is the main intermediary of climate events such as floods, droughts, melting glaciers and rising sea levels. The seminar on water and climate change aims to share experience and practices of Asian countries in improving water resources management in adaptation to climate change, and will further enhance the capacity and resilience of Asian countries to respond to water crises.
Prof. WANG Jianhua denoted in his opening remarks that, during the past two decades, extreme climate events such as cloudbursts and severe droughts keep growing and have imposed huge stress on crop yield, water and energy supply, water infrastructure management, and eco-environment sustainability. To effectively cope with the adverse impacts of climate change, Asian countries should work together to improve the adaptability of water resources to climate change through scientific approaches, including making reasonable and reliable water security evaluation and predictions, addressing the weak links in water infrastructure development and management, promoting the smart and integrated water management, etc.
Prof. WANG also called on all Asian countries to enhance international cooperation from a multi-disciplinary and cross-sector perspective and make active contributions to build a safe, stable, prosperous, open, inclusive and innovative Asia.
The technical session was moderated by Prof. Mukand S. Babel from Asian Institute of Technology (AIT). Presenters and panelists from IWHR, the Green Climate Fund, Ministry of Development and Planning of Indonesia gave their speeches and shared comments on topics including Evolution Characteristics of Global Terrestrial Water Resources and Integrated Adaptation Strategies for Climate Change, Adapting Water Resources to Climate Change, Climate Change and Water Infrastructure, and so on.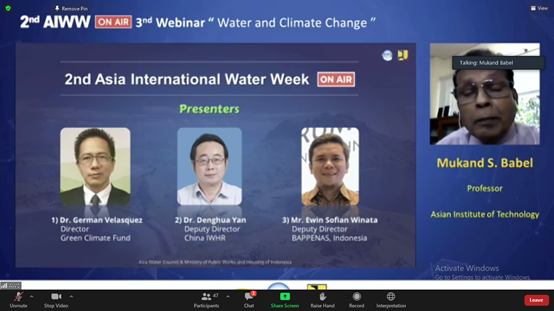 Online audience raised questions on climate change adaptation strategies, the role of water infrastructure in coping with climate change, the scale of the study areas, and other related issues.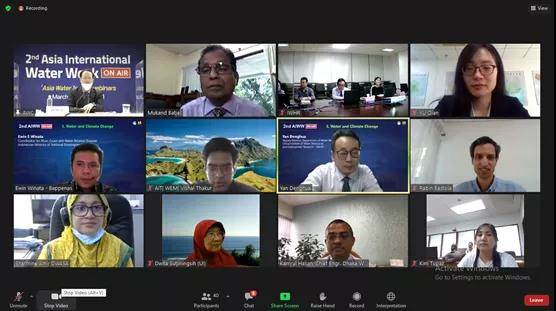 AIWW is a triennial global water gathering to share practical solutions to resolve water issues in Asia. The 2nd Asia International Water Week (AIWW)* On-Air is a series of virtual conferences to raise global interest and boost participation of the 2nd AIWW which will be held in November 2021 in Labuan Bajo, Indonesia. Considering the COVID-19 pandemic, AWC and the Ministry of Public Works and Housing of Indonesia (MPWH)-local host of the 2nd AIWW, have organized a series of online events in preparation of the 2nd AIWW to keep drawing the public attention to the event and encouraging the involvement of AWC members and multiple stakeholders.
The 2nd AIWW will continue to build on the three main pillars of the AIWW, namely the Asia to World Statement, Asia Water Issue, and Water Project Business Forum. Starting from the Opening on 24 February, three programs will proceed in parallel until June, and the outcomes of all sessions will be delivered to the 2nd AIWW in November 2021. "Water and Climate Change" is one of the five themes of the Asia Water Issue.