The IWHR-KICT (Korea Institute of Civil Engineering and Building Technology) Technical Seminar is a bilateral exchange mechanism that has sustained for over a decade, enabling both the top leadership and young professionals to visit and connect with each other. The exchange in 2020, themed "Response and Choice Under Multiple Crises", was shifted online on December 18, 2020 due to ongoing concerns over the pandemic.
Dr. Peng Jing, Vice President of IWHR, and Dr. Chung Moon-Kyung, Vice President of KICT, addressed the seminar and congratulated on keeping the exchange going despite the disruption of international travels. Presentations and discussions were made on such topics as AI empowered flood forecast, water resources management, water and ecological environment, and flood control and disaster reduction.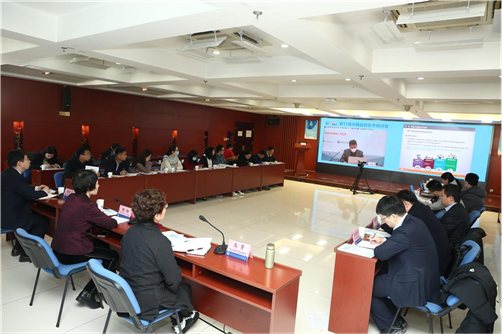 Offline meeting at IWHR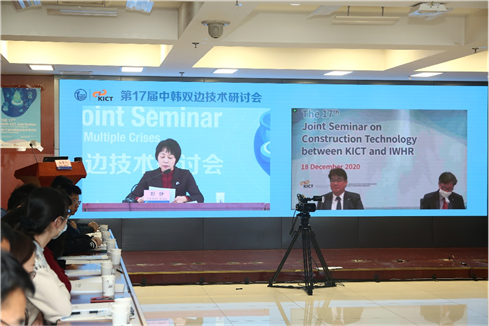 Vice President PENG and Vice President Chung addressed the seminar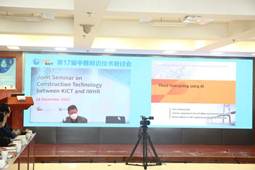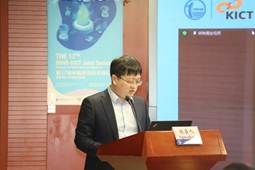 Keynote speeches
Experts from the Department of Water Resources of IWHR and the Department of Land, Water and Environment Research of KICT made reports entitled "Precipitation runoff forecast based on big data analysis" and "Flood forecasting using AI". They both focused on the latest development on big data technology and artificial intelligence, and discussed the application of such high-tech technology in water conservancy development.
Experts from the two institutes brought another 6 presentations covering flash flood disaster, water and ecological environment, water resources projects, etc. Topics and questions related to flash flood forecasting, X-band full polarization rainfall radar, voxel-based numerical modeling, coupling relationship between hydrology, vegetation and migratory birds, erosion resistance evaluation and non-destructive test technology were discussed at the seminar.
Both sides realized that in the face of multiple crises such as the Covid-19 pandemic, climate change and flood disaster, water engineering and governance can play a bigger role. The two sides expressed mutual interest in conducting in-depth exchanges and project cooperation in the future so as to jointly explore solutions to challenges in natural disasters and water conservancy construction and provide stronger scientific support for sustainable economic and social development.