The 24th Cross-Strait Symposium on Water Sciences and Technologies, co-hosted by IWHR and Taiwan University and supported by Chinese American Water Resources Association (CAWRA), was held in Beijing on September 07, 2020.
Due to the COVID-19 pandemic, this year's Symposium was held in a combination of on-line and offline approaches. Nearly 80 experts and scholars from Taiwan Affairs Office of the Ministry of Water Resources of China, universities and research institutions in both mainland China and Taiwan Province, as well as members of CAWRA attended the offline meetings in Beijing and Taipei. The two venues were connected online to for discussions.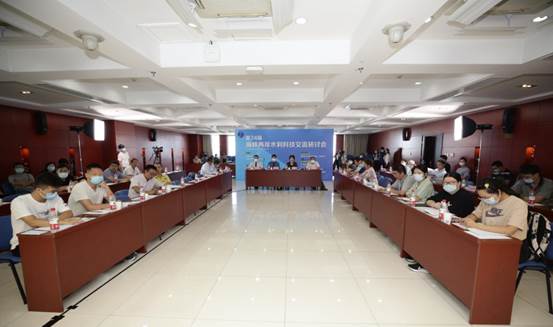 The Beijing offline venue
IWHR Vice President Dr. PENG Jing, Prof. Tsang-Jung Chang of Taiwan University and CAWRA President Prof. Jennifer Duan delivered their opening speeches, all appreciating the joint efforts of water experts from both mainland China and Taiwan Province to continue the exchange against the backdrop of the pandemic.
IWHR Vice President Dr. WANG Jianhua, Sinotec President Dr. Chen Shen-Hsien and Prof. Yu-Feng Forrest Lin from the University of Illinois at Urbana-Champaign delivered their keynote speeches titled "Key Technologies for Monitoring and Guaranteeing the Ecological Flow of Continental Rivers and Lakes," "The Concept and Action of Flood Control in Taiwan Under Extreme Climate," and "Living Laboratory: Integration of Groundwater and Geothermal Resources." The three following technical sessions respectively focused on"Challenges of Water Management Under Multiple Crises," "Hydrology, Water Resources and Water Ecological Environment," and "Construction and Management of Water Conservancy Projects."
Experts had in-depth discussions on flood control, disaster relief and ecological restoration, radioactive environment analysis of nuclear power plants, flood control effect of sponge city facilities and equipment, water disasters in the Guangdong-Hong Kong-Macao Greater Bay Area, etc.
It was the first time the Symposium was held online where experts and representatives shared their research results and academic insights and exchanged new ideas and practices of water science, technologies and management. This not only pushes forward water science but also strengthens the friendship among the water professionals across the Strait during this harsh time.