Mr. Michael Rogers, President of the International Commission on Large Dams (ICOLD), visited IWHR on November 14, 2019. The two sides exchanged views on further deepening cooperation between IWHR and ICOLD.
  President KUANG Shangfu of IWHR welcomed Mr. Rogers, together with participants from the Division of International Cooperation, the Research Center on Sustainable Hydropower Development, the Department of Geotechnical Engineering, and Beijing IWHR-KHL Co., Ltd.
  Dr. KUANG expressed his sincere gratitude to Mr. Rogers for his first visit to IWHR as ICOLD President. Since China joined ICOLD in 1974, IWHR has been hosting the secretariat of the Chinese National Committee on Large Dams (CHINCOLD), and been deeply engaged in various activities of ICOLD, such as hosting EC meetings and annual meetings, and having a number of staffs elected as President of ICOLD and chairmen of various technical committees. Dr. KUANG also thanked Mr. Rogers for handwriting a letter of congratulations on IWHR 60th Anniversary Celebrations held last October.
  Dr. KUANG acknowledged the significance of hydropower dams in terms of efficient allocation and regulation of water resources, flood control and disaster reduction, clean electricity, enhancing the ecological environment, as well as improving the public well-being, and expressed hopes of strengthening bilateral cooperation on technology development and knowledge sharing.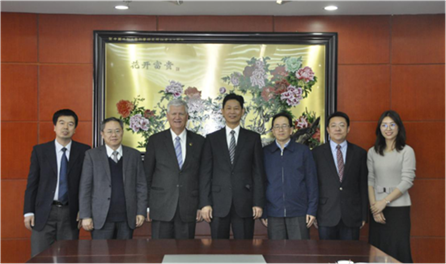 Mr. Rogers noted in his remarks that hydropower dams are vital social infrastructure that provide basic services such as water, electricity and flood control. At present, a large number of dam projects in developed countries such as the United States are aging and need to be repaired, and new dams have to deal with stricter demands on ecological and environmental protection and sustainable development. ICOLD and CHINCOLD are expected to strengthen cooperation and make due contributions to addressing these challenges.
  Mr. Rogers was also invited to lecture at IWHR Global Vision Forum. He shared six typical concrete dam design projects he has been involved in: Guri dam in Venezuela, which is the largest concrete dam heightening project in the world; Big Tujunga project in Los Angeles, which is modified from a thin arch dam to a thick wall arch dam; the Olivenhain project, which is the first RCC dam in California and also currently the highest RCC dam in the US; San Vicente dam in San Diego, which is the world's largest RCC dam heightening project; Gross dam, which is the largest RCC dam heightening project in Colorado; and the Oroville Dam spillway RCC restoration project that has received attention worldwide.
  The audience discussed and exchanged ideas with Mr. Rogers on analyzing the interaction between new and old concrete, aeration facilities design, crack control of the surface concrete of the main spillway, and other issues related to dam heightening.