Sponsored by the World Bank, a South-South Cooperation delegation led by the Federal Ministry of Environment and the Federal Ministry of Agriculture & Rural Development of Nigeria, visited IWHR on June 19, 2018 for technical training on integrated water resources management, modern irrigation technology and other related topics. Representatives from World Bank, China Irrigation and Drainage Development Center and China Water Resources News accompanied the Nigeria delegation.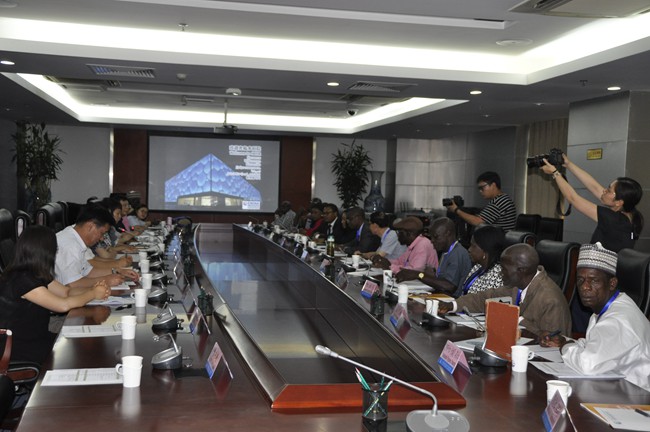 Vice President Peng Jing welcomed the Nigerian Delegation on behalf of President Kuang Shangfu. She denoted that, IWHR has been attaching great importance to the communication and collaboration with the developing countries in Africa and the World Bank. The cooperation covers multiple fields ranging from water resources and environment, irrigation and drainage, in the form of engineering design, project cooperation, technical training, and capacity building, etc. All these programs have brought about good results. Peng Jing mentioned that, the training topics proposed by the Nigerian side are also the major concerns of China. IWHR expects to enhance mutual understanding with the Nigerian side to better share knowledge and experience in water related science development, in a bid to boost the South-South Cooperation.
Mr. Oredipe Adetunji Adeleke, head of the Nigerian delegation and the project leader of the World Bank, thanked IWHR for its hospitality. Taking two Nigerian programs as examples, he introduced the purpose of this technical visit and expressed the needs of Nigeria in modernization of irrigation and drainage, soil erosion management, improvement of food self-sufficiency, attaining of food security, etc.
Later, IWHR experts made two presentations, respectively on IOT & sensor technology application for irrigation automation and technology and methodology of catchment water resources management in China. In-depth discussion was followed about the presentation as well as the future cooperation between the two sides.