Eric Love, President of STAR Water Solutions/Organic Research and Education Center, Australia led a delegation to visit IWHR on December 17, 2016. IWHR Vice President Peng Jing and representatives from the Division of International Cooperation and Department of Water Environment received the guests and held talks on storm water treatment and sponge city development.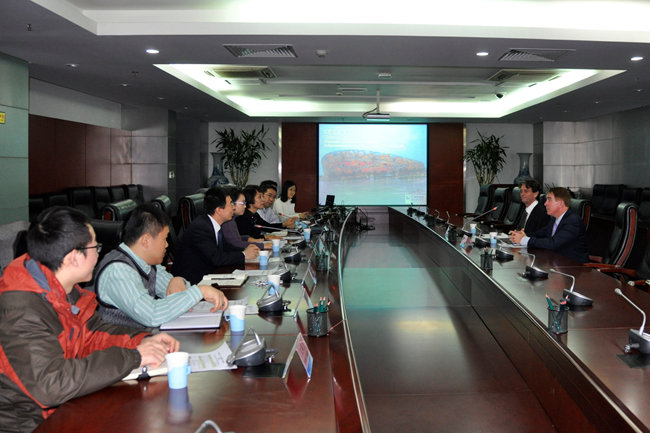 Dr. Peng extended warm welcome on behalf of IWHR President Kuang Shangfu to the visiting delegation, and briefed the guests on bilateral cooperation between IWHR and a wide range of counterparts in Australia -- governmental agencies, research institutes and water companies -- in areas such as joint projects and personnel exchange. Dr. Peng went on to introduce that China embraces future development featured by innovation, coordination, green, openness and sharing, and strives to build an eco-conscious water civilization, and that IWHR has one of its strong suits in water environment and ecology. With fostering conditions on both macro and micro scale, IWHR is keen to explore further, concrete cooperation with STAR Water Solutions in areas of mutual interest.
Dr. Love thanked IWHR for the hospitality and introduced their key advantages and experiences in storm water treatment and recycling. He agreed that the two sides have a strong incentive to work more closely on areas such as storm water treatment and recycling, and sponge city development.
Dr. Peng Wenqi, Director of Department of Water Environment, made a more detailed introduction of what the department does in particular in fields of storm water treatment techniques and river channel pollution treatment, etc. The two sides conducted discussions on potential cooperation opportunities.