The 11th IWHR-KICT Joint Seminar, a bilateral annual academic event between IWHR and Korea Institute of Construction Technology (KICT), kicked off on May 27, 2014 at KICT's headquarters in Goyang, Korea. IWHR Vice President Dr. Wang Xiaogang headed a delegation to the Korean institute and was warmly received by KICT President Dr. Woo Hyo-seop.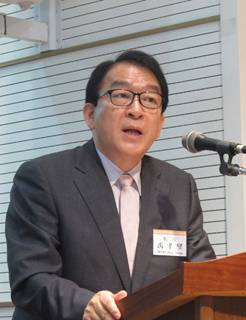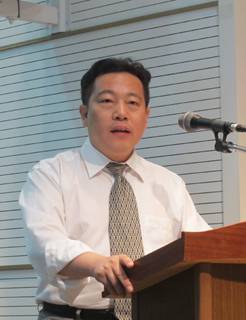 KICT President Woo Hyo-seop and IWHR Vice President Wang Xiaogang
In his welcome address, Dr. Woo first thanked IWHR for the previous seminar. He pointed out water is an irreplaceable resource, and that the UN has been attaching increasing importance to water and food security. China and Korea, enjoying geographical vicinity, are faced with similar challenges. He hoped both sides would pay more attention to water security and enhance water disaster prevention, and that people from both countries would promote friendship and cooperation and make greater contributions to social development. Dr. Woo also invited Chinese friends to participate the 7th World Water Forum to be held in Korea in 2015.
Dr. Wang congratulated the convening of the seminar. He reviewed the previous event in Beijing and spoke highly of the communication mechanism. He pointed out that, with fast economic development, China was faced with new water-related opportunities and challenges; both institutes should continue sharing experience and achievements and cooperating in topics with common interest. The vice president also hoped both sides would support each other in the international arena and make positive contributions to the sustainable and healthy development of human economy and society.
Sung Jung-gon, Head of KICT's International Cooperation and Information Service Division, and Zhang Jianli, deputy director of IWHR's Division of International Cooperation reported on the progress of research and international exchange since the previous seminar.
Koh Deuk-koo, secretary general of Korea Water Forum was invited to make a special report on the 7th World Water Forum.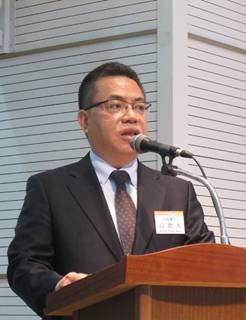 Koh Deuk-koo delivering a special report on 7th World Water Forum
Eight technical reports were presented in the ensuing session:
A New Anti-Desertification Method using Bio-Soil Technology (by Chung Moon-kyung, Senior Research Fellow, Geotechnical Engineering Research Division, KICT)

Theory and Method on Simulation of Actual Working Performance of High Arch Dams (by Liu Yi, Deputy Director, Department of Structures and Materials, IWHR)

Integrated Surface-Groundwater Analysis on the Pyoseon Region, Jeju Island, South Korea (by Chung Il-moon, Research Fellow, Water Resources Research Division, KICT)

Evolution Law and Comprehensive Actions of Water Resources System in Changing Environment (by Yan Denghua, Deputy Director, Department of Water Resources, IWHR)

Policies and Technologies for Urban Rainwater Management in Korea (by Kim Ree-ho, Research Fellow, Environmental Engineering Research Division, KICT)

Problems and Countermeasures on the Safety of Rainwater Harvesting for Drinking in China (by Liu Laisheng, Senior Engineer, Department of Water Environment, IWHR)

Development of Technology for Hybrid Desalination Plant using MD/PRO (Membrane Distillation/Pressure Retarded Osmosis Process) (by Hwang Tae-mun, Research Fellow, Environmental Engineering Research Division, KICT)

Design and Engineering Application of an Isolated Grid Desalination System Powered by Renewable Energy (by Feng Binchun, Senior Engineer, Beijing IWHR Technology Co., Ltd.)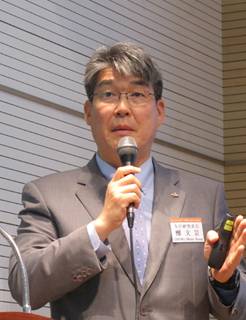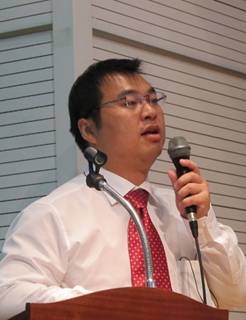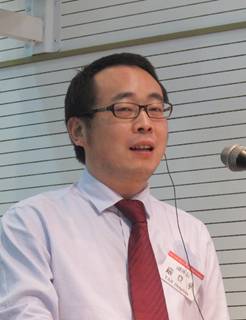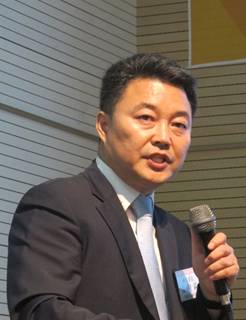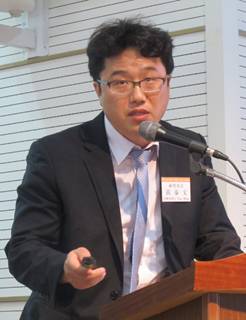 Technical reports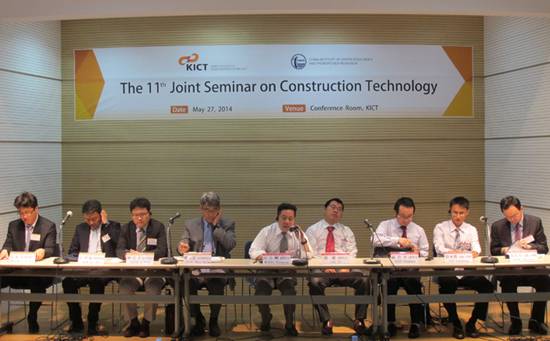 Panel discussion
In the concluding session, Dr. Wang praised the reports by KICT experts. He said IWHR should learn from KICT particularly in the fields of water resources management, urban water security and application of new technologies, and then offered specific suggestions on future cooperation of both institutes. Also summing up the seminar, Kim Hyeon-Jun, director of KICT's Water Resources and Environment Research Department, said both sides had conducted an effective discussion in a face-to-face manner, and suggested experts from both institutes strengthen exchange and conduct substantial cooperation.
The seminar also provided opportunities for the visiting experts to visit River Experiment Center of KICT and Cheonggyecheon River restoration project and on-site experimental center.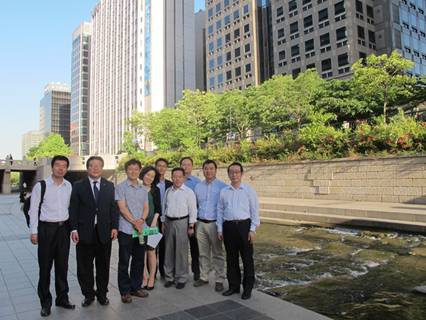 At the Cheonggyecheon River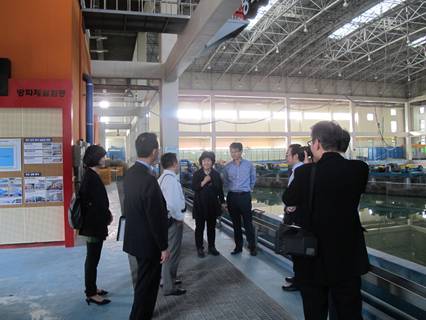 At KICT's Coastal and Harbor Lab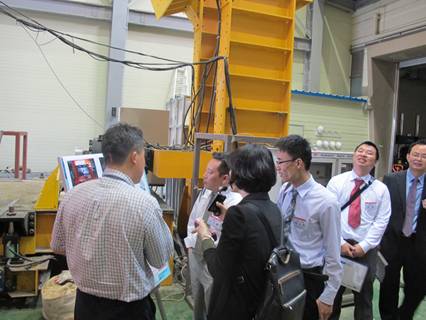 At KICT's Full-Scale Geostructure Testing Lab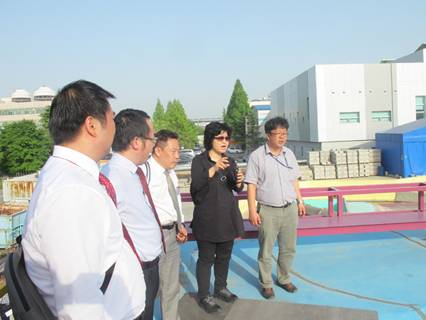 At KICT's River Hydraulics Lab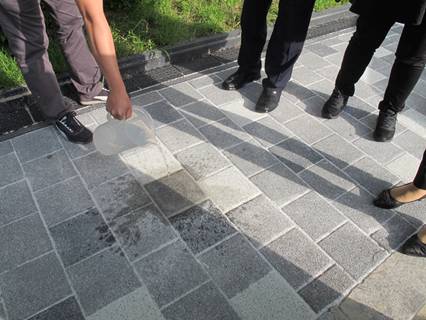 At KICT's Lab of Permeable Materials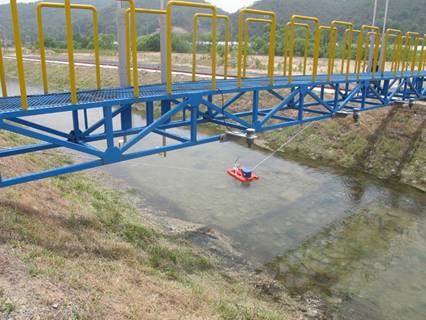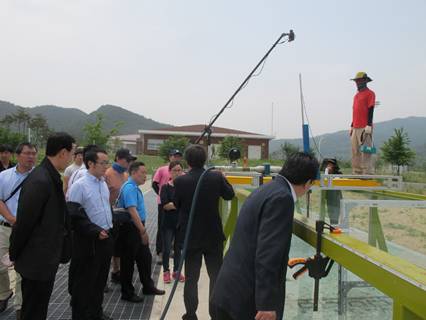 At the on-site experimental center of river ecological restoration